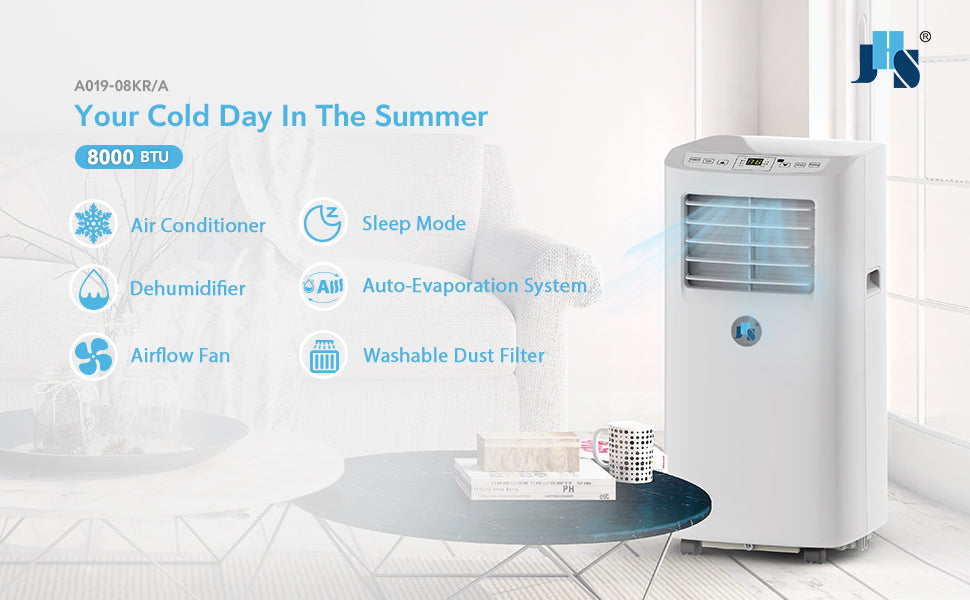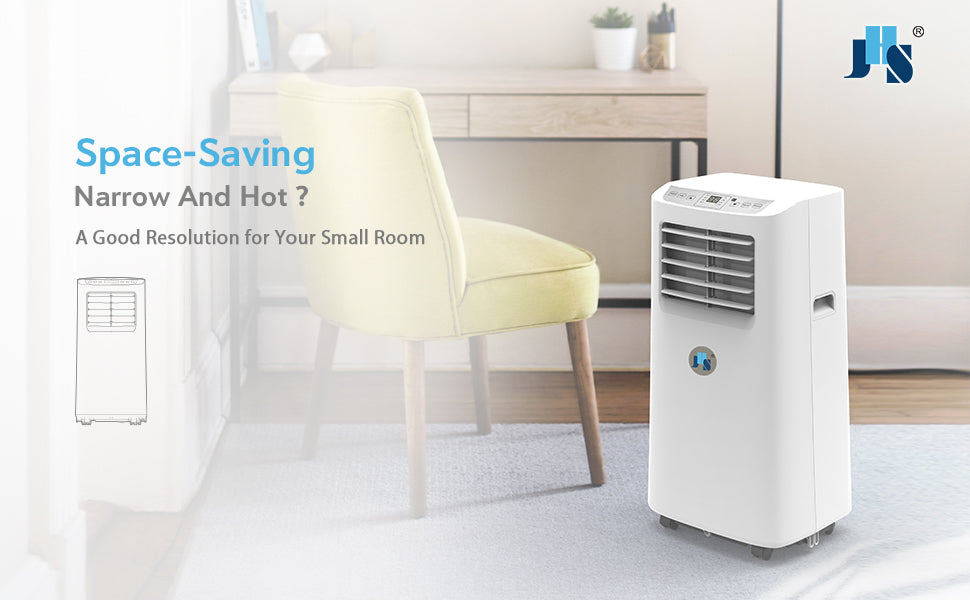 Helpful Tips for Installation and Maintenance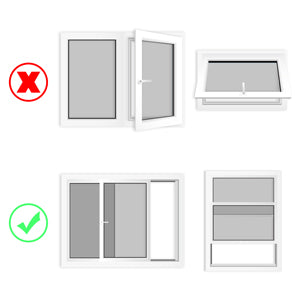 Window Installation Required
It requires a window or similar outdoor opening to effectively exhaust hot air from the room.
Please confirm your window is a vertical or horizontal type, such as sliding window or hung window.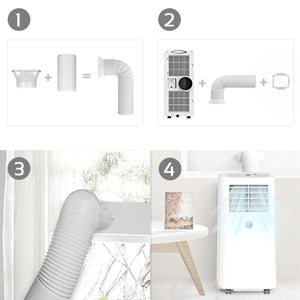 Steps to Install Window Kit
Connect the hose outlet with the exhaust hose first.
Attach the exhaust hose to the hose connector on the back of the unit.
Insert the hose outlet into the panel with hose and lock it tightly.
Attentions
Let the unit sit upright for 24 hours before powering on.
Do not power on if the floor is not flat.
The compressor protection delay will be initiated if the AC unit is restarted within 3 minutes of powering off.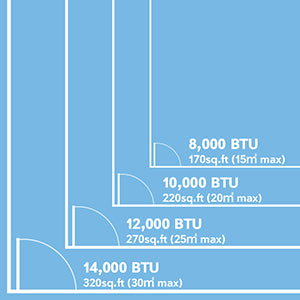 How to Choose The Right BTU For Your Room Area?
BTU simply refers to the cooling power – the higher the BTU the more powerful the cooling. The main factors in choosing the right BTU of an air conditioner are the size and heat load of your space.
Figure out the room size in square feet of the room you would like to keep cool.A handy chart on the left will help you pinpoint the right model for your space.
Roughly estimate the amount of heat the room receives.For example, if the room has a lot of windows or is next to a kitchen, that room would probably have a high heat load. In this case, you are supposed to choose a higher BTU.
CAUTION:
Before first use: Allow the unit to sit UPRIGHT for at least 24 hours if your unit has NOT been stored and transported in an UPRIGHT position.
Use on a stable and flat surface: DO NOT turn on the AC power if the floor of the house is not flat, which may cause strenuous vibration.
3-minute compressor delay protection: To protect the compressor, it won't put out cooling air instantly if restart the compressor within 3 minutes.
SPECIFICATION:

| | |
| --- | --- |
| Cooling Capacity:  | 8,000BTU |
| Estimated Cooling Area: | 200 sq.ft max |
| PMU:  | Auto restart after power outage |
| Power Supply: | 115V/60Hz |
| Maximum Power Consumption:  | 920W/8.0A |
| Refrigerant:  | Eco-friendly CFC free green R-410A |
| Digital Thermostat Control Range:  | 61°F ~ 88°F(16℃~31℃) |
| Timer:  | 24-hour ON/OFF programmable timer |
| Dehumidifying Capacity: | 31.7pints/ day |
| Drainage:  | Auto-evaporation or manual |
| Air Flow (at high speed):  | 185CFM |
| Air Louvers:  | Manual 2-way directional |
| Noise level (dBA):  | ≤ 54dBA |
| Display Panel:  | LED |


APPROVAL:

| | |
| --- | --- |
| Electronic plug:  | LCDI, UL certified |
| Component:  | RoHS compliant |
| Machine: | CSA certified |
| Warranty:  | 1 year |
DIMENSION:

| | |
| --- | --- |
| Unit dimensions:  | 13" x 12" x 26.7" |
| Extendable exhaust hose diameter:  | 6" |
| Extendable exhaust hose max:  | 59" |
| Extendable window kit:  | 9-57" |
| Power cord: | 60" |
| Unit weight: | 44 lbs |

PACKAGE INCLUDES:
1 * 8,000 BTU Portable Air Conditioner
1 * Remote-control, battery (Model: AAA R03 1.5V*2) is not included
1 * Window kit
1 * Exhaust hose
1 * Drainage kit
1 * User manual